JANUARY | FEBRUARY | MARCH | APRIL | MAY | JUNE |
JULY | AUGUST | SEPTEMBER | OCTOBER | NOVEMBER
archive NEWS:
2020 | 2019 | 2018 | 2017 | 2016 | 2015
2014 | 2013 | 2012 | 2011 | 2010
2009 | 2008 | 2007 | 2006 | 2005

DECEMBER 2014


Dear Brothers and Sisters in Christ,
We pray that you had a wonderful Thanksgiving Day celebration and that you did take time to reflect on how God has blessed you over this past year. As Thanksgiving Day is an American holiday it is not celebrated here, but we took a little time to explain to our kids about the first Thanksgiving holiday and some of our traditions for the day. But the fact is we shouldn't need a special day set aside to thank God for all He has done for us! Thanksgiving should be an everyday celebration for us as Christians, and we hope it was a special day for you too.
Christmas is just around the corner now and I failed to mention anything in last month's letter, but so many of you didn't forget and have sent funds for Christmas already, which is a real blessing to us. In fact my mind has already been focused on Christmas preparations so much I forgot it was the end of the month and that I needed to write the newsletter (that is why you are receiving it a bit later than usual this month). We do look forward to Christmas each year as it is another big outreach time for the churches. Please pray that the programs will focus on Christ's birth and His later sacrifice for us.
We are so blessed by your faithful prayers and gifts to the ministry and we thank God for you. We pray that he will bless you for how you bless us and that He will use you where you are to His glory.
Because of the Babe,
Steve and Shanthi
CHRISTMAS TIME
This year we've not been overrun with school programs we needed to attend for one reason or another. But we have helped a couple of schools with small financial gifts for their celebrations. One is in Mahiloor Munai, which is actually where we have a new house church, so we thought this would be a good way to show some good will in the community. Everyone here loves Christmas but not for the reasons that we do. It is a very commercial and secular holiday here even though it is recognized as a Christian holiday.
Our hope is that through the programs in schools and churches people will see the true importance of Christmas, the coming of our Savior Jesus.
As I said earlier several people and some churches have sent funds specifically for Christmas, and this is a blessing to us as the gifts we give to the children do add up to a fairly large $$ amount. The churches are responsible for the gifts for the kids who regularly attend, but we provide the gifts for the satellite Sunday schools, which is a larger number of children.
We're doing something special for the children who have come for every Sunday meeting and also those who came for 90% or more Sundays. In addition to the normal gift of clothes, those who came 100% receive a new school bag, school books and some supplies. Those who came 90% or more get school books and supplies and certificates showing their accomplishment. These bags and books are a big help to the families as most people struggle with these things. Even though school is "free" there are lots of additional costs the government doesn't pay for. Every year, we have had parents thank us personally for the clothes the kids receive, as well as the school books and bags. Many of these families are not Christians, so we pray that these gifts will help them to understand the love of Jesus Christ in a real way.
REALLY FRUSTRATING
We still have not relieved any word from immigration concerning the visa applications for Tharshini and Prashanth. When we originally applied the goverrnment had told us it usually takes eight months (which would take us to this December). So technically we're still on track, but still it's frustrating to not hear anything positive from immigration. Please continue to pray that the visa approval will come through without any further delays or problems. As soon as we get their visas we will make plans to return home.
SCHOOL YEAR ENDS
In Sri Lanka the school term goes from January to December, so the school year is over. Our kids have had ten days of final exams (which has just about driven us crazy--especially Shanthi as she teaches the kids some of the subjects). This is the last week of attendance, which is nothing but wasted time as they don't study anything but must go in order to receive their grade cards.
Our Sowmiya is taking what they call "Ordinary level" exams starting December 9th. The results of these exams determine whether she can continue with "Advanced level" school or not. So this is a big month for Sowmiya. She has been studying diligently, so we are praying she will do well. We would also appreciate your prayers for her!

OPPOSITION IN ERUVIL
This is the village where Pushpalogini has been working for several years and we have a few baptized believers and a good number of Sunday school kids every week. There is always opposition to our work, which comes from Satan as he doesn't want to give up any of his "turf" so to speak. This is no exception, as just a small number of people and their children (who do not attend church or Sunday School) make a big fuss and get people all stirred up saying that the Christians are out to destroy the Tamil culture. It still is a concern and we need your help in prayer that this will all be resolved soon. I really believe this has come up because they know Christmas is nearing, which means the church Christmas program, and these parents will do anything to stop the influence this might have on the village!
PRAYER CONCERNS
Christmas programs to be well attended, and for good weather.
Preachers to work to make an impact for Christ in these villages.
More workers to enter into the harvest of souls.
Our kid's visas to come without further delay.
Sowmiya's exams this month.
God to be glorified in Eruvil and the opposition to come to Christ.
NOVEMBER 2014
Dear Brothers and Sisters in Christ,
We've had a busy month for several reasons, and it has actually been very stressful, but God is good and has brought us through everything, great is His faithfulness!
After another ten day round of a different antibiotic I've finally kicked the cellulitis that was in my leg. It had gotten better before and I thought it was okay then it started getting worse again. Now all is back to normal except for some tendonitis, but that just seems to be part of life anymore.
We had two national holidays this month, so our kids were out of school for more than two days and they were quite happy. I remember the days of counting it down until the next holiday from school, too.
We've had quite a bit of rain which complicated a few projects. The rain though was very welcome as it has been so dry this year.
As we think of how God has blessed this month we also think of you. We are blessed to have people like you who hold up us to the Father in heaven in prayer. We have really needed His strength this month and it is always an added strength to know so many are praying for us and the ministry. We are also blessed to have faithful financial support too. In reading the news from back home we know that things are economically pretty tough for so many people. God continues to provide for us and we are blessed by you in that way too.
We pray that God will bless and use you where you are as we labor together for His glory and honor.
Faithfully Yours in Christ,
Steve and Shanthi
PERIYA KALLAR WALL COMPLETE
The Periya Kallar wall was another project made difficult by timing, government, and also the rains. One day it rained hard enough to wash the mortar from between the blocks even though it was covered. At least we didn't have to tear it down. It was also made difficult in that the Road Development Authority stopped one day and asked for our permit as it is on the main road. Over a year ago we had gone to RDA and they had said, "There's no need for a permit as a wall is not a permanent structure". So after two trips to Batticaloa a couple of letters, and meeting with four different people they finally said go ahead and build. So praise God it is complete!
Finally a Wall!!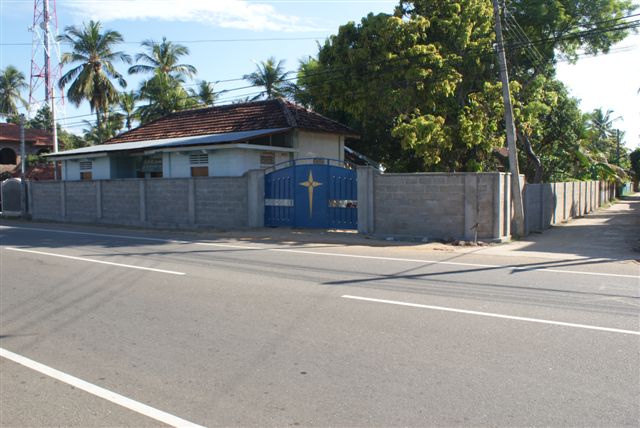 THREE YEAR PROJECT FINALLY COMPLETED
I really don't know what to say on this other than it seemed there were so many other priorities that this just didn't get done until now.
The last time we were in the States we raised money in two different VBS programs there to install playground equipment at the churches where there is enough room to do so. I must apologize for such a long delay, but two churches are now enjoying the new equipment. Here they call it a children's park. Onthachimadam and Mahiloor each got swings, a slide, a monkey bar and two teeter totters. Already the kids are really enjoying them. There are so few playgrounds here the kids have nowhere to play and use equipment like this, only a very few schools have playgrounds at all.
At Mahiloor the Sunday school teachers and others oversee the playground for two hours each evening, and it is open to any child who wants to come. You have provided a lot of joy for the kids and we pray there will be more children who will come to Sunday school from this as well.
Having fun!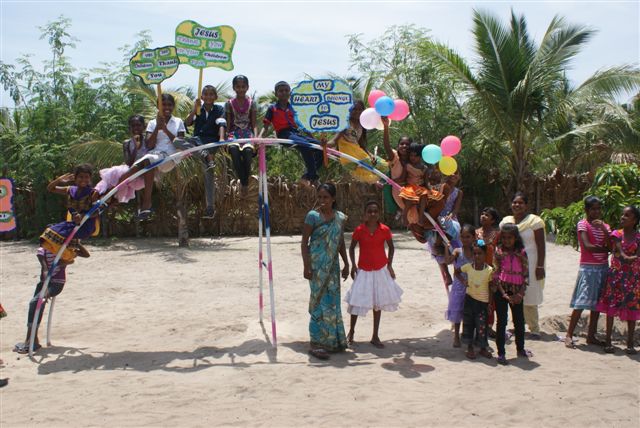 CHILDREN'S VISA SITUATION
Well the old saying, "no news is good news", was true for us in this case. We had heard nothing from immigration so we thought all was well. Actually while we were in Colombo my sister Penny called and said they had sent a request for more information. It always sounds simple but it is never easy to comply.
We had applied for the kids' visas as they were already adopted by us. U.S. law allows this if the child has been in your custody for two years prior to when the adoption was finalized. We had sent a copy of the court order showing that in 2004 we were given custody of the kids, but this wasn't enough for immigration. What they wanted were documents proving we had been in the country for that period of time, the children were indeed in our home, and we were indeed providing for them in every way. This was no easy task! Most of the things they were asking for we don't have, insurance policies, income tax returns from here, etc.
We kept thinking, discussing and praying as to what we could provide. Most of the kids' previous school report cards which I sign had been thrown away but we managed to find a couple for each child. Just to shorten the story, we included some church certificates, school reports, school enrollment documents, bank accounts, and photographs of them. We even found an old Police Household report which showed our names as well as the children as occupants of the house from 2008, and copies of our passports showing visas and stays in Sri Lanka. And all documents had to have an English translation as well by a sworn translator.
When it was finished we took it to Fed Ex and the package weighed two pounds (that's a lot of paper)! This consumed so much time and energy getting translations, copying, scanning and printing of documents, but it is finally done. Please pray this will satisfy and prove to immigration that these children have been under our care and that very soon we will hear "good" news from them!
PRAYER CONCERNS
Praise for the playground equipment and installation and that it will help draw children to the church.
Our children's visas, for immigration to accept what we have sent to them.
Faithfulness of our preachers and workers to do the work of evangelists.
More people to accept Christ.
Praise for God's healing for Shanthi and me.
OCTOBER 2014
Dear Brothers and Sisters in Christ,
It seems just a few days ago I was typing the September newsletter--this month has really flown by! I guess I should get used to that but I never do.
We've had cooler weather toward the end of the month due to rain in the area, not much for us (only a couple of showers) but we'll take any we can get. Rainy season will soon be here for us (before we are ready I'm sure).
Our kids are back in school, but already are talking of their next break I vaguely remember doing something similar. And there have been some new additions to our household which I'll explain later so the house is crowded again. The more the merrier I guess.
I had a round of cellulitis in my left lower calf and ankle, at least that's what the doctor said. I had two days of high fever and a couple days of low grade fever after that. The medication the doctor gave did help the infection but not much for the pain. I was pretty much house bound and stayed upstairs most of the time, at least until I went stir crazy. I am doing much better now, the swelling is gone and almost no pain so it's back to doing normal things in life and ministry.
We truly want to say thank you for your continued prayers and support of the ministry. We are truly blessed to have people who are concerned about what is going on and lift us to the Father in prayer. We could not accomplish anything without His strength, direction and blessing, as well as your financial support which is necessary for us to continue the work of ministry here. We pray for God to bless you for the blessing you are to us in partnering with us in this ministry. We pray that God will use you where you are to His glory!
In Christian Love,
Steve & Shanthi
FINAL WORD ON VBS
Actually that is not quite true as all our co-workers have been busy visiting the children and their families this past month and will continue to do so. We look at VBS as an opportunity to get new children to come to Sunday School, and also a way to reach out to new families with the Gospel message.
I think this has been the best attendance we've ever had although I can't find my records from last year (you would understand if you saw my filing system or lack there of would be a better description). There were eight VBS programs held and as I mentioned before this was the first year we had a five day program. I didn't hear too much grumbling so I think the preachers and workers have seen some benefit from this also. The total number of children who attended was 823 with an average daily attendance of 665. I'm glad we didn't have them all in one place at one time!
God truly blessed the efforts for the program itself and we're looking for a harvest of souls to come from this program in the future. Almost every church has seen an increase in attendance in the Sunday school programs. Please continue to pray for the preachers and workers as they visit these families and children.
NEW MEMBERS IN OUR HOUSE
Our preacher and his wife in Mahiloor, Sutha and Jeno, are niece and nephew to Shanthi. When they came they left their two children with Jeno's parents, Shanthi's brother, as they usually don't allow children to transfer to another school during the school year. Long story short--some problems developed staying with grandpa and grandma and they brought them here. The problem is the Mahiloor schools are not very good which is well known to everyone so they wanted them to be enrolled in our Koddai Kallar school. This would be a bit of a challenge to get them to and from school everyday, so the kids are staying with us to finish out this school term. Because we have a good relationship with the schools here the principal allowed them to transfer. This is very unusual as most times the kids just miss out on the rest of their school year. I know it's hard to understand, but that's how the education system works here.
It has been beneficial for our kids too, as their daughter is the same age as Tharshini and their son the same age as Prashanth. This has spurred our kids on to do better in their studies--a little friendly competition so to speak. The niece and nephew go home to Mahiloor on weekends, and are here during the week. Sutha and Jeno come to visit during the week when they can, so it's not been too bad and they are good kids.
OFF TO COLOMBO
We leave Tuesday the 30th for Colombo for Shanthi's next blood tests and check up. She is doing well, and is regaining strength and stamina. She does find it more difficult to translate; it seems that all the chemicals have affected her ability to do that, but she is doing more all the time and finding it easier to do than at first. Please pray for another good report!
Note from Penny: I just talked to Steve this morning and all Shanthi's tests came back normal Praise God! No doctor's appointments for the next three months!
While we are in Colombo we hope to get Sri Lanka passports for Tharshini and Prashanth.
CONSTRUCTION AT PERIYA KALLAR
We did some more repairs and much needed painting on the building and also began to build a wall across the front and down one side of the property. We've also installed a new gate on the main road and should have the wall done within a week or so. This was supposed to be done months ago, but with all the other things going on it just didn't work out. Hopefully I can send some pictures for next month's newsletter.
PRAYER CONCERNS
Still no news on the visa for Prashanth and Tharshini.
Pray for the preachers and workers as they continue to visit children from VBS.
Pray for the construction of the wall at Periya Kallar to go as smoothly as possible.
For Shanthi's check up and getting the kids' passports.
More people to come to Christ, and more workers from within our churches.
SEPTEMBER 2014
Dear Brothers and Sisters in Christ,
I don't know about you but I'm ready for school to start again! I know that school has already been going for a week or maybe two for you there, but here the August break is almost over here and school will start September 1st.
We always think that we'll somehow have time to do some things with the kids we don't get to do during the school year but with ministry needs, extra tutoring classes, and visits from other family it simply didn't happen. As I write this Shanthi's family from Colombo is here for a week long visit, and her sister and her family came last week from the Netherlands for a week's visit. We hadn't seen them for three years I think. So these, along with other things we'll mention later, have kept us jumping all month long.
One thing I can honestly say is we never grow so busy we forget to thank God for you and your concern for this ministry. Your prayers especially mean so much to us and truly have been felt through the difficulties we have faced this year. We can never say thank you enough for them and for the financial support you give to the ministry. May God bless you for the blessing you are to us and may he bless your efforts there as you labor for His glory!
In Christian love,
Steve and Shanthi
FROM BAD TO WORSE
We mentioned the trouble with our preacher in Periya Kallar last month, but little did we know what was about to happen. I could fill pages of the things that have been said and done since last month but will try to give you a brief summary.
As I told you before, we asked Selva and Thevi to leave the ministry in Periya Kallar as their attitude was unchanging and in their minds we were to blame for all their financial troubles. We told them that the last thing we wanted to do was to ask them to leave, but since we saw no change we could not continue to pay salary for work not done, and deceptive practices concerning finances. Their response this last month has been to visit all the believers and turn them against us with all sorts of outright lies and twisting things we said in order to gain the support of the church members. The church members have been visited by us and we explained the entire situation, even showing proof of misuse of church funds and the salary that they did receive (which by the way is double what they told the members they were receiving). But most have chosen to believe the lies because they like Selva and can't believe he would lie to them. Regardless it has been difficult time for us, but God is good!
PAGE TWO ON PERIYA KALLAR
It is amazing to us how God has worked things out! Over a year ago a couple came to visit us one evening--we really didn't know them, but she is a distant cousin of Shanthi's whom she had actually never met before. They had been helping in another church close by Periya Kallar but wanted a ministry of their own and they were moving to Vavuniya which is about a six hour drive from here to take a church as the preacher.
About two months ago we heard they were back in our area, and after much prayer and discussion we now have a new preacher and family working in Periya Kallar, David and Ajantha and their two children Anosh and Angel. As both David's and Ajantha's mothers live with them they are coming to our church now as well.
Already some of the old believers in Periya Kallar have come back, some who had left long ago are back, and there are new families and individuals coming to church. David and Ajantha are very excited and have lots of ideas and plans for the church, so much so that we had to tell them we can't do everything all at once! They are out visiting every day to win souls for Christ. We are very happy to have someone who is enthused about ministry and whose desire is to glorify God alone! Please pray for them as they begin to work with us in Periya Kallar.
VBS ALMOST WRAPPED UP
As you read this the last two VBS programs will have just been finished in the Periya Kallar and Onthachimadam churches.
The other churches had theirs earlier in August and each one had very good attendance. God really blessed the efforts in prayer, preparation, and executing the programs! I'll wait until next month to give the attendance totals for all the programs--I'm still trying to get over hand cramps from signing all the certificates!
We are thanking God for how he has worked and will continue to work. As we told the preachers again recently, the VBS is not an end in itself, but it should be used to give an opportunity to reach out to the children's families. Many non-Christian children and sometimes even parents come to see what's happening at VBS. It was evident that lots of Hindu kids came, because the attendance on Fridays in every VBS was much lower. Friday is the day the Hindus go to the temple. Some of the parents are already refusing to allow their children to come to Sunday school as they are afraid of the neighbors if their children become Christians. This is always the problem that is faced. But lots of "seed" can be planted and watered and that's the real work and benefit of VBS.
Pray for these children and their families. Pray also for the preachers to get into the homes and visit these families before the excitement and influence of VBS wears off.

SHANTHI'S DOCTOR VISIT
When we wrote last month it was just prior to Shanthi's first check up since her chemo treatments. We're happy to report that the blood tests showed she is doing well, and the doctor only needs to see her every two months to make sure things stay that way. We know God has been with us throughout all of this, and your prayers and notes of concern have helped so much. We are praising God for what he has done!
Shanthi's next check up is October 1st (that's the plan anyway). She is happy her hair has begun to grow again, and I'll have to say the fuzz looks strange after seeing her completely bald, but we are all glad her health has returned and her hair is growing! Please keep our continued travels and check ups in your prayers.
VISA UPDATE FOR KIDS
This past week Penny sent an email to us from Immigration stating the kid's case had been moved to "the local office" which is located in California. I don't know about you but California doesn't seem to be to local to me, but if it works I'm happy.
The only problem is that they had misspelled Tharshini's name again. This had happened when we first requested visas, and we thought it had all been cleared up back in May, but evidently not so! This is a major issue because if everything doesn't match up exactly she won't get the visa. It is amazing what a difference one letter can make! So I've called Immigration again and they said to send an email with all the particulars of the first call and they would get it taken care. But that's what they said the first time.
Anyway we're not out of the woods just yet, so please keep praying that all this will get worked out soon and visas issued!
PRAYER CONCERNS
Praise God for our new preacher and wife and their arrival coming at just the right time.
Praise God for good attendance at all the VBS programs.
For the preachers and workers to meet the families of the VBS children.
For Shanthi's continued good health and our traveling to Colombo.
The visa for our kids Tharshini and Prashanth.
AUGUST 2014
Dear Brothers and Sisters in Christ,
I'm writing this a little early as we will be heading to Colombo on the 28th and won't be back in time to write, send it to Penny and get this out to you. We're going to Colombo for Shanthi's first check up since finishing her chemo treatments. She continues to do well, she just gets tired easily but is doing better even in this. If all is well with this check up then she will go every two months until we head for the States (whenever that will be).
We've not had any rain for well over a month and things are pretty dry. Our well is holding up even with having to water plants and trees in the yard daily. Our banana trees, which require lots of water, have suffered the most. We've lost two in the last week--they just fall over and once they do that you cut them off and cut every thing up and wait for the trash man to pick it up. As people we are not much different. Stress, however it comes, either makes us trust in our Lord more or we get weakened and give up and fall over. This past month has been another one of more stress for us, but God is good and He is faithful! He will bring us through this and in the end we will be blessed!
We are also blessed by you and your prayers! God has provided extra strength, endurance, healing, and wisdom to deal with all that is going on because of your prayers for us. We've also been blessed by your support for us financially. This is one thing we never worry about as God always provides all we need and more through your gifts to the ministry. May God bless you for your faithfulness in prayer and financial support.
With grateful hearts and strong bananas,
Steve and Shanthi
SHANTHI'S HEALTH
As I said earlier Shanthi is doing very well and has finished the chemo treatments. She has been able to do some more translating for me which is a blessing, but it does wear her out quickly. Most people don't realize how tiring it is to translate (even I forget sometimes).
We will know more after her check up and blood tests but are confident that all is well by God's grace. She even has some hair beginning to grow back which has been a real concern. Not only is there the stress of losing it, but here people many times don't even want to associate with anyone they know has cancer. Please keep Shanthi's full recovery in your prayers, and thank you all for how you have lifted her up to God through all this!
LOOKING FOR A NEW PREACHER
What added to and has been a major source of stress this month is the Periya Kallar ministry. I really can't go into all that has been going on and has happened but the short of it is we had to ask Selvakumar (our preacher) and his wife, Thevi, to leave the ministry. This was not something spur of the moment, but it has been building for almost two years. Everything seemed to come unraveled all at once though, and I'll try to give a brief description of why we asked him to leave.
The church has been struggling for the last year with people leaving steadily, lack of growth spiritually, and no adequate explanation from Selva as to why. This we have addressed with both of them on more than one occasion. There has been a real deterioration in their attitude toward ministry--no real "heart" for the work, he was just going through the motions and over time it became obviously worse. One of the reasons for this, we are convinced, is their financial problems. These have been going on for over two years but have gotten worse in the last year. In spite of counseling them to cut expenses they continued to spend as if there was no tomorrow. We had loaned them money on five occasions but this only made the situation worse. One month ago they asked for another loan of $800 even though we had given them one in November 2013 for $450 which has not been paid back. I refused to give them another loan and after that their attitude toward us changed for the worse.
To shorten this sad story, we received a phone call from two Muslims shops where Selva had gotten food and clothes but never paid. These had been included in the amount we gave them in November but Selva didn't pay the money. He has done the same thing with the electricity bill. On deeper investigation he has also taken and spent all the church offering. For this and several other reasons we have broken our ties with Selva and Thevi. Now over the last month he has gone into all the church members' homes, poisoning the minds of the believers and telling lies about us, and accusing us of asking them to leave the ministry for no reason. As a result this last Sunday we had only one lady who came for worship and one child for Sunday school. We have been into the homes of all those who have attended the Periya Kallar church numerous times and explained what has happened and tried to encourage them in their faith, but to no avail it seems.
So we're looking for a new preacher and will most likely be starting from square one with this church. We do have a couple that if all works out may be able to take the church ministry up soon. Please pray for wisdom and that God would provide the right minister so this church can go forward.
STILL NO VISAS
This is beginning to sound like a broken record but we still have no word from the embassy concerning visas for Tharshini and Prashanth. Of course we are dealing with the government so what else could we expect! Pease keep praying for this so we can make our plans to come back to the States.
VBS PRAYERS NEEDED
This month we really need your prayers for all the churches as they will be having their VBS programs. This year they are doing a five day program instead of a three day program as in the past. Everything seems to be going well with the plans and teacher training completed this last month.
Several things to pray for specifically for VBS:
Teachers and helpers and good attendance.
Children to receive the truth of God's word.
Church members to be fully involved.
Preachers to do the follow up getting into all the homes of the kids that come.
PRAYER CONCERNS
VBS programs to go well and be well attended.
New preacher for the Periya Kallar church.
Shanthi's continued recovery and health
Selva and Thevi to truly repent of what they have done and are doing.
Visas for the kids to come through.
JULY 2014
Dear Brothers and Sisters in Christ,
The fourth of July--what a day. Growing up this was a bittersweet day for me. I knew there would be fireworks, sometimes an extended family "get together" with a big meal and lots of fun, but it also meant there would almost always be hay to bale and it would be hot! (I actually liked baling hay, I just didn't like the dust and itching it caused.) On this day we're reminded of the freedoms we enjoy as Americans and also the sacrifices of thousands who have served in our military and given us those freedoms. Sadly our country is not what it used to be for many reasons, and some of our freedoms are in threat of being lost. I feel this is mainly because people have forgotten God and how He has worked and made our great country possible.
More important than our physical freedom, however, is the freedom and joy we have in Christ! This freedom also came at a price--the very blood of Christ. And the wonderful thing is this freedom never changes or can be taken away regardless of our physical situation. How wonderful it is to reflect on how God in his great power, love and mercy has given us all we need for life and godliness, 2 Peter 1:3.4.
Take some time this fourth to thank God for the freedom we have in Christ and to pray for our country.
We also want to take time to thank you for your faithful prayers and support for the ministry. We are grateful to God for you and how you are blessing us and others with being able to hear the truth of Jesus Christ. May God continue to bless you and use you wherever you are.
Thanking God with you and for you,
Steve and Shanthi
CONTINUALLY AMAZED
We have been so wonderfully blessed by God through Shanthi's chemo treatments. We continue to receive emails, cards and notes saying that she and I are in your prayers. This is, I am convinced, why she is doing so well. Literally thousands of people are praying for her!
By the time you read this we will already be in Colombo and she will have had the last treatment which is scheduled for the first of July. The only thing that might prevent this physically is if her blood counts are too low. By God's grace they have remained good throughout the treatment process. Please continue to pray for Shanthi and her continued recovery process. She is doing very well, by the way, due to God's gracious working.
We'll know more about her prognosis after this treatment, but if all goes as discussed with the doctors she will begin having check ups every two months for some time, progressing to longer intervals over time.
Again thank you and God bless you for all your prayers!
VBS PLANS GOING WELL
Each of the churches has scheduled their VBS programs during August which is school term break here. This year everyone will be doing a five day VBS which is a first for us here. This year's lessons are on the Fruits of the Spirit.
A two day training time for all teachers and workers has been scheduled for July 1st and 2nd (which is actually while we are in Colombo), but it couldn't be worked out any other way. Rani, our Koddai Kallar preacher's wife, does this training. She has done this the past few years and it has worked out well. We use English lessons which she can read and translate into Tamil. Very little material like this is written in Tamil which is why we use the English lessons. She prepares the lesson plans, handwork patterns and gives general instruction for the programs. She does an excellent job and really enjoys it even though it is a lot of work. She has two others who serve as her assistants and will be involved in different aspects of the training.
Please pray for the teacher training days and also the programs themselves that new children and families will be impacted by the Gospel message.
EXTRA PRAYER NEEDED
Over the last several months we have really been struggling with Selva and Thevi, the Periya Kallar church pastor and his wife (actually more with his wife than him, but it all affects the ministry in the end). We have counseled from the word of God, discussed the situations and addressed problems we see, but it seems there is not much change in heart on their part.
One of the bigger issues is that they have borrowed money not to live on but for lots of extras and unnecessary things. They can't recognize what is a necessity and separate it from what they want. We actually bailed them out of debt last November with around $450 and discussed again that they had to change their spending habits, but it seems this is to no avail as they are deeper in debt now. Their debts have affected their ability to minister to the people and their minds are focused on debt--not the ministry. Now it seems to pretty much be common knowledge and the whole church is getting a bad reputation. The pastor's wife is now blaming us for all their troubles and is complaining to the church members and others. Because of this many of the church people are finding "reasons" not to come to church or be involved.
At this point we're unsure where this will lead, but we do know that something will have to change and soon. We spoke once again with the pastor this past week and explained that not only was it affecting them but the kingdom of God as well. We told him that things had to change or that they would need to leave.
This is just a very brief description of what is going on. We don't know what the outcome will be but we may be looking for a new preacher to take over the church soon. This is not what we want! They are capable and were doing a good job until they began to dig this financial hole for themselves.
I have always tried to not "sugar coat" how things are going here, and this is one of the situations we don't want to talk about but feel you need to know. There are always struggles in ministry and this has not come at a good time for us personally, but that's exactly what Satan wants.
Please pray for wisdom for us, and for Selva and Thevi that God would help them see the destructive path they are on. Pray also for the believers to understand and recognize their need to look to God rather than to man.
STILL NO VISAS YET
We are still waiting for the visas for Tharshini and Prashanth to come through, although it is still early by the government's way of counting time anyway. As soon as we have them in hand we can begin plans to come back to the States. Of course we're ready but all things in God's time!
PRAYER CONCERNS
1. Shanthi's health and treatment, praise for how well she is doing!
2. The VBS training days and VBS programs in August for it to be a time of outreach to families and not just a fun time for the children.
3. Wisdom in dealing with the situation in Periya Kallar.
4. Selva and Thevi to understand the need to change.
5. The visas to come through for the kids.
6. More workers for the ministry here, our co-workers and the church believers to be faithful.
JUNE 2014
Dear Brothers and Sisters in Christ,
This past month on the full moon day is a major celebration for Buddhism. It is known as Vesak and celebrates Buddha's enlightenment. All the celebrants make colorful paper lanterns with lights inside and hang them on their homes and businesses. In our area the only places are the police stations, army camps and a few businesses as few Sinhala Buddhists are in our immediate area. We take the kids out to see them as it is something that they study in school and is fun to see. But it's also a sad time for me personally. People are seeking peace, joy, and hope but not looking in the right place! Following man's teachings, religions and looking within ourselves doesn't bring any of these things--they are found only in Christ Jesus! Please pray for this country that they would be truly enlightened!
It has been raining all over Sri Lanka except in our area (which is normal this time of year). There has been so much rain there have been numerous mudslides in the mountain areas in the center of the island. Hopefully the rains will fill all the reservoirs which power the hydro electric plants and supply water for many parts of the country.
We are blessed by your continued prayers and financial gifts as this enables us to continue to work here and share the Gospel with people. We thank you from our hearts for your faithfulness, and may God continue to bless you and use you where you are.
In Christ, the ONLY way,
Steve and Shanthi
CONTINUED PRAISES
Shanthi had her chemo treatment on the 20th this month and once again it went well. When we went for her blood tests on the 19th, her blood counts were actually up slightly from last month, and the doctor was very pleased.. The chemo is working, and the doctor also commented on the fact that Shanthi had not had to postpone a single treatment due to low blood counts (which is common). Shanthi still has had very little side effects and we continue to praise God for how He is working in this and are confident of a good outcome. To God be the glory! We thank you for your prayers, cards, emails and even a few phone calls we received that continue to encourage us during this time.
NEW CHURCH START
One of the goals of our satellite Sunday school program is that we will make contact with parents and bring them into the church, or if it is possible to even start a new church. This has happened this last month with a new church plant started in Mahiloor Munai. This village is just south of Mahiloor, but is far enough from the church it is difficult for people to come to the present church location. The Sunday school has been up and running for about three years, and it was now time and there was enough interest among the adults that with prayers and rejoicing a new house church has been started. These always come with difficulties and sometimes persecutions, but God will be glorified through this new plant. Sutha and Jeno go there on Sunday afternoon and hold a worship service, and a couple of the youth girls who have been doing the Sunday school continue their work with the children. Please pray for this new location that more will come to know Christ.
CRUSADES BRING NEW PEOPLE
The Periya Neelavanai and Onthachimadam churches both held crusades this past month. Both were fairly well attended, new contacts were made, and a few people accepted the message of Christ, have been immersed, and are now part of the respective churches. We're thankful for the efforts put forth and for God's working in the hearts of the people. Please pray for these new converts to be faithful and grow in their new faith!
I might add the Periya Neelavanai church has finally surpassed one of our prayer goals-- that of having an average Sunday morning attendance of 100. They have done this for the past two months so we are praising God for this as well.
PORATIVU MINISTRY PUT ON HOLD
Kushaya had been doing a very good work among the children in this strong Hindu village. They had a wonderful Christmas program, but then after the first of the year things began to fall apart. The village Hindu leaders made lots of violent personal threats against Kushaya and the parents of the children who participated in the weekly Sunday school. It got so bad that when the kids would see Kushaya coming they would run away and hide. He went form having 30 to 40 children to literally no one attending. Sadly we felt the best thing to do was to put this on hold for a time. Sometimes our desires and timing is not in accord with how God wants to work. We just pray that seeds planted will be able to grow and hopefully in the future this village will be open to the Gospel. This has freed Kushaya up to work in Samanthurai which has members from the Periya Neelavanai church living there. So he is working with the house church there and will work in some of the nearby villages as well.
HOW GOD WORKS IS AMAZING
This past Sunday we went to Mahiloor for their worship service because they were to have a baptismal service. Six people were baptized that Sunday morning, and I'll tell just a few stories about some of them.
Komady had been a very strong Hindu and had said openly she would never become a Christian. Her oldest son had become a Christian about 8 years ago and just last year married our niece Sona. About 6 months ago Komady came down with an illness that was brought on by a charm, and no doctor was able to help. After she was delivered from this illness by the power of Jesus Christ, she began coming to church and she was baptized Sunday.
Suway was a Hindu who had married one of our church girls, Latha (the girl in Mahiloor who had invited us to come in the very beginning and start a Sunday school there). When this happened we were saddened as this usually means the end of the girl remaining a Christian. We visited Latha and Suway once, and Latha began to attend church again. After about a year and a half Suway began attending occasionally. In his own testimony Sunday at his baptism he told how his entire family opposed him, but he knew that following Jesus was more important than what his own family felt or said.
Selvaraja is one of the men in our village who delivers bread each morning and evening. Some of his family had accepted Christ and were members at Mahiloor. Through their invitation he started coming to church. Over time and with lots of prayer he has been set free from Satan's power and was baptized in Jesus.
God is amazing!
PRAYER CONCERNS
1. For the new brothers and sisters in Mahiloor to grow and be faithful.
2. For the new house church in Mahiloor Munai.
3. Kushaya as he begins working in Samanthurai to build the church there.
4. All our preachers and co workers to faithfully carry out the message of Christ.
5. Shanthi's continued healing and strength praise for very limited side effects.
MAY 2014

Dear Brothers and Sisters in Christ,
We hope and pray you had a wonderful Resurrection season! No other event in all of history has had such an impact as that of the death and resurrection of our lord Jesus Christ! His forgiveness of sins and confidence of heaven is what helps us "keep on keeping on" in this life.
Our kids have had a shortened school term break and are now back in school. The problem is only half the teachers have shown up for the first week and only a few of them actually have classes (such is the education system here). I have increased the amount of time I spend with the kids in learning English. Shanthi was tutoring them in English, as she could explain things in Tamil so they would understand, but she has had to limit her time to other subjects in the afternoon and evenings. I must say it is frustrating at times being a teacher, but I keep reminding myself this is not their native language.
We had a couple of thunderstorms this month which was highly unusual. Our April showers only bring higher humidity rather than May flowers.
Spring time brings the thought of renewed life and hope after the long winter months for you all in the States. But the greatest revival and renewal comes from seeing people surrender their lives to Christ. Your prayers and financial gifts continue to have an impact on people here, bringing new life and hope in Christ! We thank you from our hearts for your love for the lost here in Sri Lanka. We ask God to bless you for your being a blessing to us.
SHANTHI'S HEALTH
We have received so many emails, cards, and notes expressing your love and concern for Shanthi and they have been such an encouragement to us both during a difficult time. Shanthi is handling the chemo very well and continues to amaze everyone including her doctor with how well she is doing. Her third treatment is April 29th and this is the halfway point. We continue to ask for your prayers for her and the chemotherapy treatments that the side effects would be taken away or minimized. God is at work in this as she indeed has had very minor problems. The biggest has been that she has lost her hair. To be honest this was a real blow to her but by God's grace she has been able to deal with this. We haven't purchased a wig as yet, but she does wear a scarf tied back over her head. It is distressing for her to go out in public because of the way people here view "cancer patients". The popular thought is that you have done something wicked and cancer is the gods' punishment and the evil eye is on you because of what you did--superstitions run high here in every aspect of life.

FIRST ONE THING AND THEN ANOTHER
It seems that we have really become one of Satan's favorite targets over the last several months. By God's grace we have been able to deal with his attacks and move on, but they just keep coming. This month was no different with major problems erupting just when we began to think that life would settle down somewhat. Paul's reminder in 2 Corinthians 1:8-11 helps us keep focus on the deliverance rather than the problems. "These (trials) come so that we will not rely on ourselves but upon God"!
Our foster son Vijay has had an ongoing relationship with a girl in one of the churches. There is no such thing a dating here and to try and explain all of this would require pages of writing which I don't want to do, nor would you want to read it! Anyway Vijay, long story short, decided to elope with this girl. We, along with the girl's family and preachers who knew, had urged Vijay to finish his vo-technical school this year, have his girlfriend continue her education, THEN we could work out the marriage. We really don't know or understand why they felt they had to elope but it's done. They were registered in a civil ceremony and are actually living with Vijay's younger brother and his wife in another village (this younger brother had never come to live with us). Vijay finally sent a text message two days ago to Shanthi saying he was sorry, and that he didn't realize what we were trying to do for him. Basically he wants to come and talk but is too ashamed to meet us face to face.
Anyway, life here and now doesn't always work the way we hope or plan, but praise God that He is faithful and unchanging, even when life throws curve balls at us!
MAHILOOR CHURCH DOING WELL
Sutha and Jeno have really worked hard to gain the trust and love of the congregation there in such a short time, and it is evident in the number of people coming to church. We were there last Sunday and it was such a joy to see people in church who had stopped coming, new contacts in church, and the Spirit of God moving and bringing deeper commitment in the lives of so many. It was crowded--including Sunday school kids well over 100 that week! And they informed us that there are several who want to be baptized and go through the training about what it really means to accept Christ. At this service there was a dedication of four women (there are only a very few men in Mahiloor, and fewer who are Christians, since many have gone abroad to work), who came forward willing to do special work and service for the church, and to take on some of the ministry responsibilities. Hopefully some of this zeal will "catch on" in some of our other preachers who continue to struggle with work of ministry in spite of years of training and teaching.
Please continue to pray for the all the churches, and that this zeal would not be short lived.

VISA PROCESS
The visas for Tharshini and Prashanth to return to the States with us have been filed, received, accepted, and are now "in process" which will take several more months. Praise God with us that this part is going well and pray it continues to go smoothly.

PRAYER CONCERNS
1. Shanthi's treatments and safety in travel. Her testimony to lead others to Christ.
2. Vijay for Godly wisdom (not earthly) and for reconciliation with us and the church.
3. Our preachers to be faithful in the work of ministry.
4. People to come to know Christ. Workers to enter into the harvest field.
5. Visa process for Tharshini and Prashanth to go smoothly.
APRIL 2014
Dear Brothers and Sisters in Christ,
So many of you have sent cards, emails, and even a couple of calls and told us of your prayers for Shanthi, for the surgery, and now for the chemo treatments. We do so appreciate these special prayers for her and me as well!
She is recovering well from surgery--even quicker than anticipated--and is feeling fairly good. She struggles with the stairs as that pulls on her insides, so she stays upstairs most of the time. The kids go up there to study, she has a TV with one Christian channel, bedroom and bathroom and we take meals etc. up to her. We go back to Colombo for the second chemo treatment April 2nd. . Just a reminder for those who might not have heard, the doctors found cancer inside the cyst that was removed, but no evidence of any cancer outside the cyst or spreading in any way, so the chemo is a precautionary treatment. As the doctor said better to do this now and take care of it than to wait and later say I wish we had done something sooner.
Shanthi had very little trouble with side affects after the first treatment, and even the doctor mentioned how well she did. This gave us the chance to plant some Gospel seed with him, your prayers at work in this again! The only thing is just this past week she started losing her hair. Now that is a real struggle for anyone to have to face but I feel even more so here as all women and young girls wear their hair long and take great pride and care of their hair, it truly is the women's glory here. So needless to say it has been a real blow to Shanthi. But overall she is accepting this and we plan to try to find a wig when we go to Colombo this time. Thank you for your prayers and keep praying for Shanthi to do well with each of the five treatments remaining.

With deep appreciation for your love and prayers,
Steve and Shanthi

THAT DIDN'T TAKE LONG
God has blessed us with a new preacher and wife at Mahiloor. We spent a lot of time in prayer for this and we know many of you did as well. God has brought a couple who have so far been a real blessing to the church and ministry there.
Sutha and Jeno are actually relatives of Shanthi's, her brother's daughter and son-in-law. They have been working in ministry for a couple of years now. They are the ones who came and prayed for us and others as well and found the charms which had been placed by voodoo men (for lack of a better term). God continues to use them in this way in Mahiloor. I mentioned last month a man who had vehemently opposed the ministry and had even threatened violence against the youth who came to that area to do ministry. His son was possessed by a demon and had tried numerous times to attack his father and mother to kill them. Through prayer the demon came out of him and now this family is attending the church and they are hosting a Sunday school program in their home. God truly is amazing!

Sutha and Jeno have been really busy getting to know the church members, and they all are introducing Sutha and Jeno to friends and family for them to pray for and share Christ with, and this is actually something new for the church! Sutha and Jeno had shared with us that they did not want to go to Mahiloor (we actually hadn't asked them yet), but they began to pray. Sutha changed his mind but Jeno was still hesitant. After another week or so they came and said if you want us to come we will accept the Mahiloor ministry. So we agreed and they started that same week.

The church is already growing due to the fact that Sutha and Jeno are out everyday meeting people, praying and sharing God's word with them. The church has stopped using the chairs and are back to sitting on mats as there were so many people coming there wasn't room for the chairs. They have planned to start a Sunday evening worship service as well at the church building. In one of the satellite Sunday schools in Mahiloor Munai, which is southwest of where the church is located, they are now holding a Monday worship service with several of the children's parents requesting they come!

Praise God with us in how He is working through Sutha and Jeno to make an impact for His kingdom! And please pray for them and the work in Mahiloor!
OTHER STRUGGLES
We continue to struggle with our former coworker at Mahiloor, Dene and his family.
We know many of you are on Facebook, and we know that Dene has already contacted former church members from here who immigrated to the States last year. He also has Sri Lankan contacts and relatives in Canada and Germany, so he is trying to maintain the appearance of working for Lamp Lighters in Mahiloor in order to obtain personal financial support from people outside of Sri Lanka. So if you see something unusual on your Facebook page PLEASE make sure you know who it is. If you are at all confused about the situation contact us by email.
Dene's wife Vino has now separated from him, and we know Dene has already contacted the girl he had the affair with in Mahiloor which is just more evidence of a lack of repentance on his part. It is sad to see how Satan is really working to destroy the message of God's love and salvation everywhere.

PRAYER CONCERNS
Praise for answered prayer for a new preacher in Mahiloor. Pray for Sutha and Jeno as they begin the work there.
Praise that the church in Mahiloor is already showing signs of new growth.
Praise that Shanthi is doing well and minimal side affects so far, please keep praying for her and safety as we travel.
For Dene and for his family as well to see the need to repent and get his life right with God.
More workers for the spiritual "harvest fields" here with us.

1st QUARTER FINANCIAL REPORT

2014 General Fund Support $18,827.50
2014 Office Expense:
Postage, Cards, Paper, Envelopes, Ink $1137.09
Bank Charges: Printing Checks, Fees $199.20
2014 Payroll:
National Evangelists $2560.00
Stephen Bycroft $7500.00
2014 Special Projects:
Building / Construction $5000.00
Total Expenses: $16396.29


MARCH 2014
Dear Brothers and Sisters in Christ,
February has escaped so quickly and so much has happened in such a short month. We've been dealing with several major issues this month both in the ministry and personally. God has given strength, wisdom, and guidance in all of them!
Sometimes when we face struggles, which come to us all and in various ways, the first thing we lose is our peace. Just today in my personal Bible reading I was reminded as I read again Isaiah 26:3, 4 "You will keep in perfect peace him whose mind is steadfast, for he trusts in you, Trust in the LORD forever. For the LORD, the LORD, is the Rock eternal." Does God always remove every obstacle for us? Or did He ever promise everything in life would be easy? What he has promised is that "all things will work together good to those who love God and have been called according to his purpose" Romans 8:28 and "he will never leave us nor forsake us", Hebrews 13:5. How we need to cling to God's word and his promises and trust in Him. It doesn't matter what we face, God is there with us! What we must do is be steadfast in our faith in Jesus Christ, and His grace will always be sufficient!
We have been reminded especially this month of your concern for us and prayers for us and for the ministry. We've received notes and even phone calls which we do appreciate so much. Also we thank God for his continued provision for all our needs--physically and spiritually as well. He provides for us through your faithful support to the ministry and we thank you for your generous gifts of love. May God continue to bless and use you wherever you are and in whatever circumstances you may find yourselves.
In Christian love and eternal hope,
Steve and Shanthi
ADOPTION PROCESS COMPLETED
This month we finally drew to a conclusion of the adoption of Tharshini and Prashanth! God has brought us through all the long wait, and even when things seemed impossible God opened a way. We now have new birth certificates for both of them listing Shanthi and I as parents, along with their new names. This in itself was no easy task but God worked it all out. Their full names are, Tharshini Elizabeth Bycroft and Prashanth Nathanael Bycroft. Both middle names are Bible names--Elizabeth means "oath of God" and Nathanael means "given of God."
We're so thrilled to have this part of the process finally completed! We know many of you have been praying for this from the beginning as well. But it's not completely over yet as now we have to file with the U.S. government for visas for both of them as immediate family members. From what we've learned from the embassy this usually takes eight months. What we need (and what we are praying for) is for this process to go smoothly and to take less time than what the embassy has told us. Basically it is a matter of filing paperwork with the U.S. government, then they respond and we file more paperwork, and finally the visas should be issued. After all this we can bring them to the States where they will receive residency as our children. There is no adoption process to go through in the States, we just have to complete the visa process here.
When Shanthi and I were married it was the same basic process for her and it took about five months, so we're praying for the same thing for the kids. Praise God along with us that this is nearly finished and for continued blessing for their visas to come through without problems.
MAHILOOR MINISTRY
Not everything has gone perfectly or without problem but the ministry is quickly recovering from all the problems of Dene leaving the Mahiloor church as our native pastor. Sadly though, Dene continues to spread the story that he has done nothing wrong and that we forced him from the ministry for no reason.
Over the last month we've found numerous people who came to us asking for money they had loaned to Dene (amounting to over $4,000). All the church money was gone including offerings and the bank account, and all church financial records had been burned. We also discovered that the Christmas gifts purchased were very poor quality even though we gave enough money for very good quality gifts. All this as well as the adulterous affair with the young girl in the church, and still Dene maintains there was no reason to remove him as pastor of this church. It is eye-opening to see how easily Satan can cause us to rationalize our sin!
We along with our nephew Niranjan Kushaya (who works with us at Porativu), and another nephew Sutharsan and his wife Jeno, have been preaching, teaching, and having prayer meetings so the work in Mahiloor is continuing by God's grace. The spirit of unity in the church is good, and there have been some members who had initially stopped coming to the services after Dene was removed, but are attending once again. We are even seeing some new faces, which is an encouragement to us all. One new family in particular is a real joy for us—the father is the Hindu temple chief in Mahiloor, and his 12-year-old son was demon possessed, even attacking the father and mother with a knife. The Hindu priests had attempted to exorcise the demon many times without success, but after Sutharsan had gone to the home and prayed, the boy was able to sit quietly with Sutharsan and the family. They have all been attending church the last two weeks! God is good and is at work even in this situation to bring glory to Himself!
Continue to pray especially for the Mahiloor church and for us to find a pastor who will take on the church and lead it through this difficult time.
SHANTHI'S SURGERY
Some of you already know Shanthi had a hysterectomy on the 10th of February. But you don't know everything that has transpired since then. There were two masses of tissue, one on each ovary, along with lots of endometrial tissue which complicated the surgery. Some of you may remember she had major surgery in the States 15 years ago for the same problem. The doctor told us the surgery went well, and that there was no external sign of cancer but he would still need to do a pathology report on all the tissue removed to be certain.
What they found shocked us--there was cancer inside the mass on one ovary. There is still good news in all this. It was caught early and rated as "stage one" cancer (the lowest rating), and it had not spread to the other ovary which is what usually occurs. We then saw an oncologist in Colombo and he recommended six chemotherapy treatments three weeks apart to make sure that no cancer cells had escaped undetected. These treatments are going to begin March 7th giving Shanthi time to recover fully from the surgery. Shanthi will be admitted to the hospital for approximately two days to receive each IV treatment, and then she will be released to return home until the next treatment. Both doctors, her surgeon and the oncologist, were very positive about the treatment being successful and a complete cure of the cancer since there were no visible signs of the cancer having spread.
However, we will have to remain in Sri Lanka throughout the course of these treatments (which will last until some time in July) and then for the follow-up appointments in the next months after the chemotherapy. In other words it will be some time before we will be able to return to the States.
We are trusting God for complete healing and cure from this cancer, and even with the shock that comes with learning one has cancer, we can still praise God that it was found early enough to treat fairly easily. Pray for Shanthi and that the side effects from the chemo will be minimal as well. We will be travelling back and forth for the treatments in Colombo (an eight to nine hour trip depending on road conditions) so please pray for safety in travel as well as for Shanthi's healing.
PRAYER CONCERNS
Praise that the actual adoption process for Tharshini and Prashanth is finished. Pray that the visa process will go more quickly than expected.
Praise for the good spirit and new growth in the Mahiloor church.
For a pastor to take up that ministry in Mahiloor.
Our workers to be faithful in all things and to do the work of evangelists.
Praise for Shanthi's good surgery outcome. Pray for the chemo to be effective with minimal side effects. Travel safety to and from Colombo for us over the next several months.
FEBRUARY 2014

Dear Brothers and Sisters in Christ,
We praise God continually for how he works all things together for good! Even though we may not see the good at first we know this to be true (Romans 8:28). Sometimes it's our attitude that needs to be adjusted in order for us to see the good, not what I like or want to see happen, but will God be glorified through this. When our desire is that God would be glorified it makes all the difference.
We're all faced with times of trial, temptation, and trouble--no one is exempt. Facing these things is easier when our desire is God's glory. This has been a month of real trial for us but we are confident God is going to bring good through the situations we are facing.
We are reminded frequently of your faithful prayers lifting us before our Father, and this is what helps us have strength in times of trial! Also your gifts of love to this ministry are so much appreciated! When we began this ministry we committed to God that we would do our best to serve him and not worry about finances, and as long as God provides we will continue. We are so blessed to have partners in ministry like you with us! We pray for God to bless and use you where you are right now.
With Love in Christ, and Great Appreciation,
Steve & Shanthi
NEW YEAR HAPPINESS DOESN'T LAST LONG
We really enjoy the Christmas and New Year's season. We all know that it doesn't take long though for the joy to fade. For us this came rather abruptly this year.
This is a really long story but there is no need to go into all the details of what has been happening. On January 10th we got a phone call from Chandren who is the father of our preacher Dene in Mahiloor. Chandren lives in Jaffna (about 10 hours from us), and he wanted Shanthi and I to go and talk with Dene who was threatening to leave his wife and the ministry. We thought that because Dene takes some type of seizure medication that possibly something had happened medically, but we were in for a huge shock when we got to Mahiloor.
After talking with Dene for some time we realized this "talk" was not medication induced, but that there were real spiritual problems. In the course of the conversation he admitted to us he was involved in an adulterous relationship with a young girl in the church. We talked, counseled, and prayed with him and his wife Vino for two and a half hours that night. Before we left we felt that we had made some good progress on repentance and reconciliation with his wife.
However, the next morning Dene's sister-in-law called and said he had run off with this young girl. We headed back to Mahiloor, picked up the pertinent family members and set out to find the two of them. We thought it was likely that Dene had traveled to a nearby village, and that was where we found them. After talking for quite some time and trying to reason with them, Dene finally left with his family and returned to Mahiloor, but the damage has been done. To make a long story short, Dene resigned and we accepted his resignation. At his own admission he knew he said he could never minister in Mahiloor again, and he said he didn't want to continue to work with us. We were seeing some remorse in him, but little did we know it would be more like Judas Iscariot than Peter.
Instead of repenting and getting his life right he now insists that he has done nothing wrong and tells others that we forced him out of the ministry for no reason. His family who were so upset over what he had done are now defending him as well as condemning us. And not only that, but now we're discovering that Dene has been borrowing large amounts of money (from both church members and villagers not in the church) and he has not repaid his debts. We found this out only after people started coming to us expecting us to cover his debts because he worked for us.
I have since taken the Mahiloor church back on until I can find someone to take over the ministry full time. This is a real struggle for Shanthi and I, trying to rearrange our schedule with what we normally do to allow time to work with this congregation.
So far the spirit in the church has been good and with lots of quick teaching in several settings on forgiveness, not gossiping etc. the members seem to have united together in purpose. Already we have a few more people who have stepped forward to help in the ministry, so this is one good point. Others who had stopped helping are also coming back to assist.
This whole situation is far from over and needs lots of prayer!
BAPTISM REPORT FOR LAST YEAR
We rejoice that last year there were 37 people who gave their lives to Christ and were baptized into him. Mahiloor was the only church that did not report any baptisms, but there are several there who do want to be baptized—I am sure this is all interrelated to Dene's story.
All of the other churches have also stated they have other people who want to be baptized as well. We always give prospective believers Bible studies on what committing themselves to Christ means so they understand that it's not just changing a religion but rather changing a lifestyle and priorities. We have found over the years here that many people thought that baptism was all that was required, but when they realized it was a life commitment they would soon after leave the church. So we try to not rush things and wait for them to fully understand that Jesus is the only answer for their lives.
ADOPTION CONTINUES
Well, we finally have the actual court order in hand and plan to head for Colombo this week for the next round of paperwork to get the new birth certificates. There have been so many delays--too many to try and relate, so please just keep praying!

PRAYER CONCERNS
For good to come from the situation in Mahiloor, including Dene's repentance.
Wisdom for us in helping the church through this situation.
Husbands and ministry partners for Logi, Shanthy, and Vijaya.
Adoption process for Tharshini and Prashanth.
Praise for the growth in the churches this last year and for more to come to know Christ.
2013 Financial Report
2013 General Fund: Support $102,067.38
: Interest 4.49
_______________
Total Income: $102,071.87
2013 Expenses: Office $3392.52
Payroll: National Evangelists $11880.00
Stephen Bycroft $30,000.00
Retirement: $3000.00
Bank Charges: $245.00
Special Projects: $50265.00
Construction
Christmas
School Programs
Camps
Property Tax: $20.87
_________________
Total Expenses: $98803.39
JANUARY 2014
Dear Brothers and Sisters in Christ,
We want to wish you all a very Happy New Year! As we reflect back over this last year so much has happened--some good, some bad--but God has been with us through it all.
We have seen some growth in the churches both in number and in spirit, which is why we are here. Even though the growth has been slower than we would like we are confident God is at work. We are excited about what God will do in this New Year. We have lots of plans and hopes but above all we want God to be glorified!
We continue to praise God for how he has provided in the past year through you our faithful partners. We know he will continue to do so through this next year.
We want to thank you for your prayers and support for the ministry--we need them both, and knowing people are praying for us makes the difficult times easier to bear. May God bless you abundantly this year as we labor together for his glory.
Blessings for the New Year, Steve and Shanthi
CHRISTMAS PROGRAMS WELL ATTENDED
While attendance was down somewhat in a couple of the churches, attendance and spirit was good in all the programs this year. Thanks to all of you who helped with the expenses of our Sunday school children gift distribution!
We attended four school programs and eight of our church programs. There were two other programs we were invited to, but time simply was not our friend, nor did we have the energyówe were just Ďtuckered outí!
The government has instituted a new policy for all religious celebrations in the schools that even if there is only one child of a particular religion in your school there must be a program for that celebration. So now all the schools are required to have a Christmas program even if they donít want it. That could be good or bad news, but we see a real opportunity to be able to freely enter the schools and share the real meaning of Christmas and Christ. (Isnít it sad that they are tearing down nativities in public schools in America, but here in a Hindu, Muslim, Buddhist, and Ďwhateverí country we can share the birth of Christ!)
One of our members does volunteer teaching of Christianity at the public school in Periya Neelavanai, and we happily attended and spoke briefly. The real surprise came from the principal. She was a classmate of Shanthiís when she was in school, so there was the opportunity to renew an old friendship, but there was far more than that. The principal gave an opening speech (in Tamil of course) which Shanthi translated somewhat for me. Later Shanthi told me that little speech was one of the best Christmas messages she had ever heard about the meaning of Christís coming--and this was from a Hindu school principal! The Lordís word will go forward even from the mouth of unbelievers!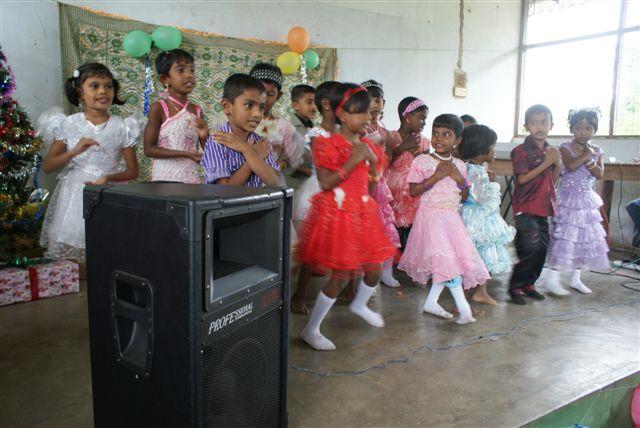 Angels Celebrating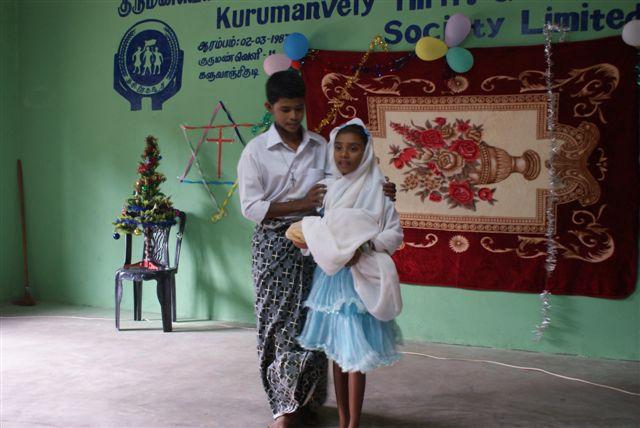 Joseph and Mary
Christmas Choir

NEW SUNDAY SCHOOL IN PORATHIVU
I mentioned previously that we have a new Sunday school starting in the village of Porathivu. This is being conducted by Kushaya, the younger brother of Ananthy, the preacherís wife in Periya Neelavanai. Kushaya has been working there for about three months, and so far has about 25 children coming to Sunday school on Sunday mornings. During the week he also gives tutoring lessons to some of the children and through this has been able to get them to come to Sunday school.
This was the last Christmas program of the season we attended, held on the 24th. Boy, were we in for a surprise! There were about 30 adults (mostly women), several teenagers, and about 40 kids in attendance. The program was held under a mango tree where Kushaya holds Sunday school. Not only were we surprised to see the attendance, but how well the kids did in their program. One young HINDU boy actually gave a short Gospel message about why Jesus came. The kids did four different dramas--the prodigal son, Saul on the road to Damascus, a modern day story, and of course the Christmas story. The people in attendance were enthralled with the entire thing.
But whenever God does something good Satan is always there trying to undo what has been done. Kushaya called us just this morning saying that some of the temple leaders had come and scolded him for having the program. This is honestly what we expect, but it is never easy to accept. We encouraged him saying just go to the houses and meet with the people individually if you canít meet as a group. Eventually God will work things out so that you can continue in the group setting and we are confident He will do so!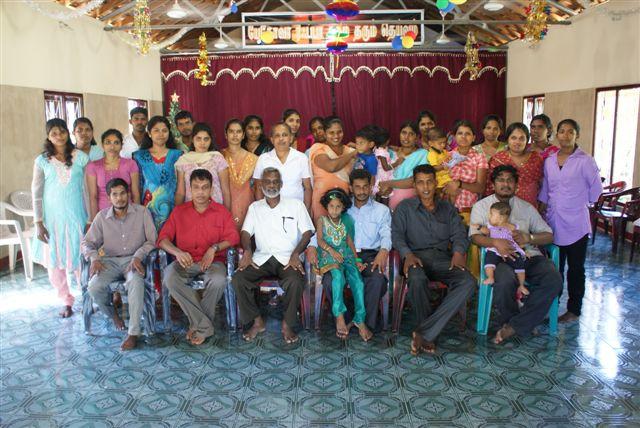 Our churches Sunday School teachers and staff
OUT OF THE BLUE
About a week ago I got an email from a young man, Sarath, who is interested in partnering with our ministry. He evidently got information from our website. He is Sinhala and wants to establish churches among the Sinhala people, and eventually begin a school to train preachers. We have wanted to start something among the Sinhala population since they are the majority people here, but we have just been waiting for the right time. We donít know yet but this may be it. We are going to continue contact and hopefully meet Sarath soon to discuss the possibilities. Please pray for wisdom and for Godís direction in this.

PRAYER CONCERNS
This New Year to be one of growth spiritually and physically in the churches.

Boldness for our preachers and us to proclaim the truth of the Gospel.

Kushaya and the Sunday school at Porathivu for protection and that God would glorify his name in that village.

The continuing adoption paperwork to be completed quickly, nothing new to report.

All of our kids and their schooling as well as desire to honor Gods with their lives.

Lamplighters World Ministries primary goal is to go to countries where the gospel has not been preached, or limited work has been done to establish Churches in those countries. Founders Steve and Shanthi Bycroft work with the people of Sri Lanka.


Lamplighters World Ministries, 2641 East 6th Street, Joplin, MO 64801-1636, USA
Email: lamplightersworld@att.net Ph. 417-624-7078 Fax: 417-624-7085
Copyright 2009 Lamplighters World Ministries